ISSA Keelboat Courses
The ISSA Keelboat Courses are very popular courses for weekend sailors.  They enable beginner or intermediate sailors to develop skills and competence on yachts that are uncomplicated but have truely impressive performance when its windy and are the only boats in harbour that still move effectively in light winds.  Sail in Asia really like these boats because of their similarity to sailing dinghies. No frills and instruments to worry about, just an iPad for the Navionics Plotter and away you go!
Keelboat Courses are two days in duration for all three courses. Keelboat Crew, Keelboat Navigator and Keelboat Skipper.  Costs are kept down but enjoyment is high!
Weekend courses are really very popular with Sailing Club Members and the students taking ISSA courses. Keelboats are as simple and exhilerating as dinghies but a lot drier to sail. Learn the ropes and join in flotilla sailing to the islands. Now thats fun!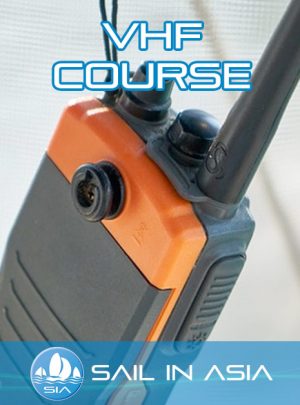 ISSA VHF Radio Course
VHF Radio is a very important safey net system that marine craft use every day.  The basic vhf radio is now updated with a DSC VHF Radio that is able to send either analogue or digital radio transmissions. The VHF Radio Course is a yachts main safety system as it is possible to use in many situations that a mobile telephone would not!  Consequently the radio is marinised  (weather proofed) and thus rugged and reliable.
The course covers all aspects of use.  Simple communications, professional channels, Channel 16, ship to ship channels and of course the Emergency and Urgency channel 16.  Students learn to send messages that are normal and routine from yacht to yacht ,right thru to sending Mayday Relays, to other vessels, or coastguards.  The VHF radio course is assessed by a one hour exam and by a course handbook with assessments and exercises.
COURSE AVAILABILTY: This course is 1 day in duration – the date you select below is an indication, we will contact you directly to confirm availability


From:

฿

8,000
Read more