Our highly detailed and beautifully illustrated ISSA yacht training handbooks, certificates and posters are available as high quality download PDFs – (hopefully available on main ISSA website in a range of languages). There are 15 ISSA course handbooks available for purchase. Check them out and if you want a pdf downloadable copy make your order at our shop. Pay and download in a very short time. If you wish to order a hard copy for your course let us know and we will organise this for you too.
Go to Trip Advisor to check out Sail in Asia Courses. See what our clients say about us!
We are happy to help on any question you may have: Email Us or WhatsApp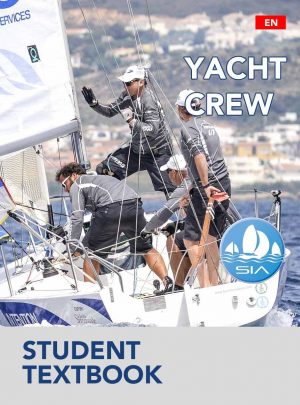 ISSA Yacht Crew Student Textbook
The ISSA Yacht Crew course takes 4/5 days to complete.  Its a 90% practical course aimed at beginners to sailing. The Yacht Crew course is designed to be a fun course which stimulates people to learn how to sail on a variety of vessels. The course ensures that you can sail on all points, by course end and be an active competent crew on a yacht.  The syllabus is outlined on our main yacht training website.  Check out the handbook syllabus for Yacht Crew.  Assessment is by constant assessment, a practical and hopefully not too demanding process.
Our aim is to ensure we train you to sail and to be compliant and aware of the IRPCS, able to interpret Weather forecast Apps, Trim sails on all points of sail and a host of other skills. The good yacht crew is someone who can listen and be an active engaged member of the crew. Teamwork and communication go hand in hand. By course end you will be familiar with your skippers communications to crew. "Stand by to gybe, bare away, head up, luff up, ready to tack, heave to" etc.  Our aim is also to get you really engaged with the sport of sailing and want to do more.
The Yacht Crew Handbook is carefully illustrated so a beginner to sailing can easily appreciate the various chapters that cover the syllabus. Safety being our priority is covered in terms of personal safety, crew safety and boat safety. The sailing skills are again carefully illustrated as are all the other chapters. This is a Millenial Style" book rather than a 'Sixties style' textbook that some other systems used.  We want you to access the knowledge easily and not be falling asleep at page 7. The illustrator conveys whats important in each chapter and this is reinforced by succinct notes and explanations.
topics covered include the following:
Safety
Parts of a boat
Handling a boat under sail
Berthing Basics
Handling a yacht under Power
Tides
IALA Buoyage
Collision Regulations
Meteorology
Environmentally Responsible Sailing
Knots and Sails
฿

1,000
Add to basket